3. Introduction to the Accelerator - Part II (4 min.)
We are not alone in our observations. As this movement takes hold of the entrepreneurial community, entrepreneurship educators are becoming increasingly dissatisfied with the results of traditional educational programs that focus on writing business plans. The reasons for this disconnect have to do with the underlying evolution of management education and the lack of understanding of the innovation process. The outcome of the paradigm shift will profoundly reshape how entrepreneurs and innovators launch disruptive products and start new businesses, whether as stand-alone businesses or corporate ventures.
The evidence of the change can be seen sprouting up in numerous places around the world. Steve Blank's Customer Development philosophy has been followed by others, such as Eric Ries of the Lean Startup and John Mullins and Randy Komisar in their Getting to Plan B approach. Similarly, the methodologies underlying successful seed funds such as Kickstart or incubators such as Y Combinator or Tech Stars all point to an emerging belief that there is a better process to success than what many people are following. The Nail It then Scale It method represents the best ideas that have come from more than two decades of observing hundreds of world-class entrepreneurs drive positive outcomes.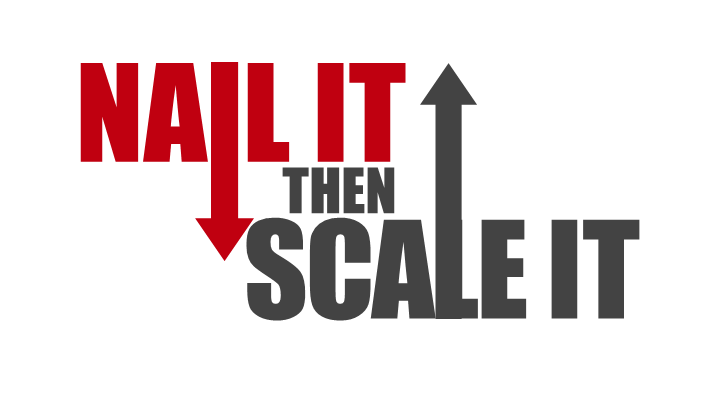 Together, we have applied our experience and research in this emerging field to create what we see as the entry point for entrepreneurs and innovators who want to launch innovative products and build successful businesses. Whether you are designing a disruptive new product, starting a corporate venture, starting your own business, or rescuing your business, applying the principles of the Nail It then Scale It process will dramatically change the way you view a startup and significantly improve your chances of success. We have seen it save entrepreneurs years of work and transform their businesses. We're confident it can do the same for you.
If you follow the Nail It Then Scale It process faithfully and complete all the assignments in this program thoroughly, you should be well-prepared to enter your idea and business model into a variety of programs, including competitions and startup accelerators. We have close connections with many national and international programs and accelerators, including 500 Startups (www.500.co), Startup Grind (www.startupgrind.com), Startup Chile (www.startupchile.org), Startup Jamaica (www.start-upjamaica.com),and the International Business Model Competition (www.businessmodelcompetition.com) to name only a few.

Complete and Continue